Monster Edit
Edit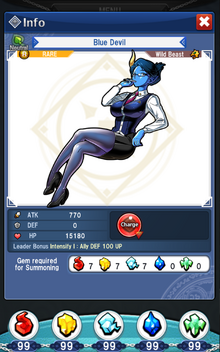 Stats Edit
Edit
Rarity: Rare
Attribute: Neutral
Species: Wild Beast
Type: HP
Max Level: 50
ATK: 770
DEF: 0
HP: 15180
Skills: Charge
Leader Bonus: Intensify
Monster [Elder] Edit
Edit
Stats Edit
Edit
Max Level: 75
ATK:
DEF:
HP:
Skills: Charge, Brandish
Monster [Master] Edit
Edit
Stats Edit
Edit
Max Level: 100
ATK:
DEF:
HP:
Skills: Charge, Brandish
TriviaEdit
Edit
Blue Devil and Aka Oni share the same stats with the exception of their leader bonus.
Ironically, Aka Oni is Japanese for "Red Devil".
Ad blocker interference detected!
Wikia is a free-to-use site that makes money from advertising. We have a modified experience for viewers using ad blockers

Wikia is not accessible if you've made further modifications. Remove the custom ad blocker rule(s) and the page will load as expected.