Rarity: Unique
Attribute: Neutral
Species: Spirit
Type: Defense
Max Level: 50
ATK: 998 ->
DEF: 679 ->
HP: 3960 ->
Skills: Soul
Leader Bonus: Safeguard
Dryad [Elder]
Edit
Max Level: 75
ATK: 3938 ->
DEF: 2492 ->
HP: 6557 ->
Skills: Soul, Shield Bash
Dryad [Master]
Edit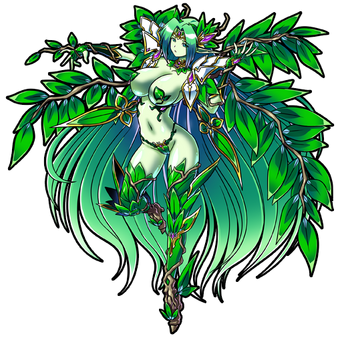 Max Level: 100
ATK:
DEF:
HP:
Skills: Soul, Shield Bash, Regeneration
Boss of the Green and Ancient Towers. As the final boss of the regular towers, she hits like a truck and shrugs off most attacks with her defense and 22k Regeneration.
Null Force V is reccomended as your leader ability, which will allow you to deal decent damage.
Ad blocker interference detected!
Wikia is a free-to-use site that makes money from advertising. We have a modified experience for viewers using ad blockers

Wikia is not accessible if you've made further modifications. Remove the custom ad blocker rule(s) and the page will load as expected.