Great Tentacle
Edit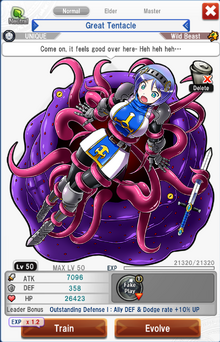 Rarity: Unique
Attribute: Neutral
Species: Wild Beast
Type: Normal
Max Level: 50
ATK: 3078 => 7096
DEF: 162 => 358
HP: 18975 => 26423
Skills: Fake Play
Leader Bonus: Outstanding Defense
Great Tentacle [Elder]
Edit
Great Tentacle [Master]
Edit
Please add a picture of this if you can. As long as you can see what it is any quality is fine.
Tentacle monsters seem to go together with scantily clad women in anime.
The monster seems to be grabbing a being that looks similar to the Knight.
Ad blocker interference detected!
Wikia is a free-to-use site that makes money from advertising. We have a modified experience for viewers using ad blockers

Wikia is not accessible if you've made further modifications. Remove the custom ad blocker rule(s) and the page will load as expected.