Moon Rabbit
Edit
Rarity: Legend
Attribute: Light
Species: Immortal
Abilities: Recovery
Leader Bonus: Lucky Dice
Type: Normal
Max Level: 50
ATK: 1425 -> 4218
DEF: 101 -> 297
HP: 6000 -> 10900
Moon Rabbit [Elder]
Edit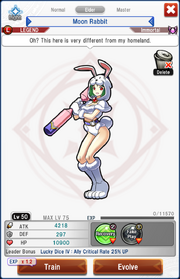 Rarity: Legend
Attribute: Light
Species: Immortal
Leader Bonus: Lucky Dice
Type: Normal
Max Level: 75
ATK: 4218 -> 5643
DEF: 297 -> 397
HP: 10900 -> 13400
Moon Rabbit [Master]
Edit
Rarity: Legend
Attribute: Light
Species: Immortal
Leader Bonus: Lucky Dice
Type: Normal
Max Level: 100
ATK: 5643 -> ?
DEF: 397 -> ?
HP: 13400 -> ?
Moon Rabbit is a mix monster, she is a fusion between a Light Elemental, and a Sword Angel.
The Moon Rabbit is based off of East Asian folklore[1].