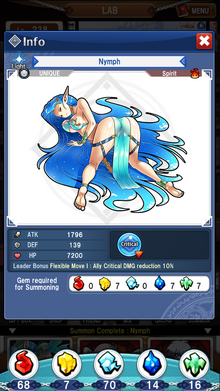 Rarity: Unique
Element: Light
Class: Spirit
Type: ???
Max Level: 50
ATK: 1796 -> 5716
DEF: 139 -> 433
HP: 7200 -> 11904
Abilities: Critical
Leader Bonus: Flexible Move
.
.
Nymph [Elder]
Edit
.
.
.
.
.
.
Nymph [Master]
Edit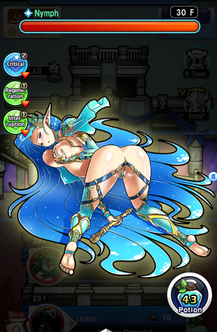 The only most efficient way to Train this monster's Leadership Skill for now is with Satyruses.
This monster is known to have one of the most kinkiest postures and post-evolution appearances.
Ad blocker interference detected!
Wikia is a free-to-use site that makes money from advertising. We have a modified experience for viewers using ad blockers

Wikia is not accessible if you've made further modifications. Remove the custom ad blocker rule(s) and the page will load as expected.